Part 2 of a 3-part series on choosing the right wireless power solution for your business.
Click here to read part one on why consumers are excited about the benefits of AirFuel Resonant.
By delivering "drop and go" spatial freedom, as well as the ability to rapidly charge multiple devices at once (even devices with different power needs) 에어퓨엘 공진방식 기술 gets consumers one giant step closer to being able to power up without plugging in.
Those advantages also carry over to infrastructure use cases, and AirFuel Resonant is ideally suited for enterprise applications. A couple enteprise and industrial applications include:
Workspaces
Robots and drones
First responder/construction team technology
Service Industry (coffee shops, restaurants, hotels)
Let's explore some of the features and capabilities of AirFuel Resonant that make it an ideal fit for enterprises.
Resonant Wireless Power Is Elegant and Easy to Install

With inductive wireless technology, the distance between the transmitter and the receiver can be no more than a few millimeters. This greatly limits installation options – the wireless power transmitter must be on top of the desk, table, or counter, or at the very least flush with the horizontal surface where it is being used.
To accomplish this type of installation, you'll be stringing wires everywhere, or drilling holes in your furniture or countertops to put the charger flush with your surface. You don't want to ruin your beautiful boardroom tables or granite countertops during your installation, so these installation snags are problematic. And what's the point of wireless power, when you still have wires cluttering your tabletop? High installation and maintenance costs serve as barriers to entry to wireless power.
With AirFuel Resonant, you can have up to 50 millimeters of space between your transmitter and your receiver. This means you can have:
Flexibility during installation. You can install AirFuel transmitters underneath your counters, tables, desks, or nightstands with something as simple as Velcro or duct tape. No need to string unsightly wires or damage your furniture or countertops, and you can do the installation yourself, instead of having to hire a professional installation team.
Elegant workspaces. Having a clean, uncluttered workspace can not only boost productivity and efficiency, it can also help you think more creatively and clearly.
Simple installation like this translates into huge time and costs savings for enterprise clients – and it looks elegant and more professional, too. The wireless charging experience will be so seamless that it will feel like magic to your customers – and that's a big selling point for your company. For example, there's no need for coffee shop customers to compete for outlet space – they can just sit down at a clean, uncluttered table and start working, because the desk or table they're sitting at is wirelessly powering their devices from underneath.
Ease of Maintenance and Higher Durability with AirFuel Resonant
Another huge advantage of AirFuel Resonant in enterprise and infrastructure applications is that their wireless charging technology is considerably more robust than inductive installations.
Picture a countertop at your favorite restaurant or bar. The company has drilled holes in their tables and installed inductive charging points that are flush with the table. Of course, those tables need to be cleaned regularly – especially when considering COVID concerns and stricter cleaning rules. An employee comes along, sprays a cleaning product on the table, and starts wiping the surface down. All this is getting done quickly, so the employee can move on to other tasks.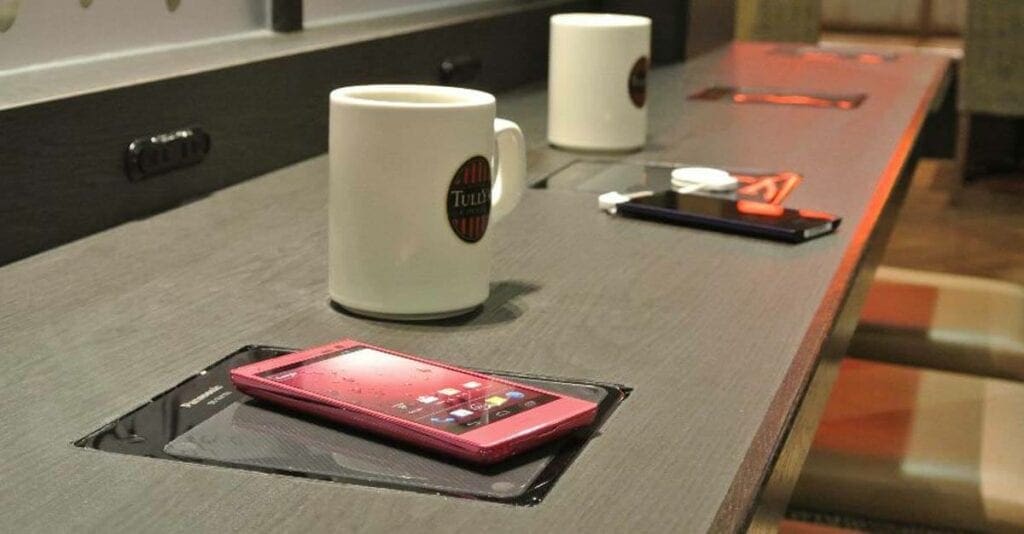 During this cleaning process, food crumbs and other debris from the table get pushed onto the charging surface, and cleaning chemicals come in contact with the transmitter. In this scenario, it's practically impossible to keep the charging spots clean. Your charging point stops working, customers get frustrated, and it creates more work for your employees as they deal with wireless tech that's supposed to make customers' lives easier. No matter how good your installation is, inductive tech is going to get dirty, and likely to have issues. That's not a solution – that's a problem.
But with AirFuel Resonant, you don't have to worry about any of that. You can use any cleaning product to wash down your surfaces, and you can clean quickly and easily without disturbing the charging surface, because your transmitter is tucked away out of sight and out of reach of problematic crumbs, debris and chemicals. AirFuel Resonant transmitters are incredibly durable, and they'll continue to work in enterprise or infrastructure settings.
Scalability and Interoperability
With AirFuel Resonant, you have the ability to charge devices with different power needs, as well as powering up multiple devices at one time simultaneously.
For enterprise clients, that scalability and flexibility provides a massive advantage over the single-purpose charging capabilities of current first generation wireless technology.
"AirFuel magnetic resonance provides a much better consumer experience by offering spatial freedom, simultaneous powering of multiple devices, and allowing a wide variety of devices from wearables to phones, tablets, and laptops without compromising efficiency." – Ky Sealy of WiTricity
Enterprise workers like first responders or construction workers carry multiple devices during their workdays, including computers, phones, cameras, mobile printers, and headsets. When workers head back to base after a shift, they need to have the flexibility to place their bag (with all of their equipment) onto a single charging platform or container, without having to individually plug in all their devices to separate inductive charging points. They should just be able to stash their kits in a locker or on a tabletop, and feel confident that all their equipment will be fully charged and ready to go when they start their next shift.
AirFuel Resonant is also the best wireless charging technology for the robots that are becoming increasingly common in enterprise environments. Companies like Misty Robotics are deploying robotics technology in warehouses, grocery stores, factory floors, and hotels – and those robots need wireless charging technology that gives them spatial freedom and flexibility.
"One of the big reasons we use AirFuel Resonant charging in our Misty Robots is because it freed us from the constraints of inductive or contact charging. We wanted our robot to be able to dock and charge in any kind of rotation or orientation – and that's what AirFuel Resonant gives us." – Ian Bernstein of Misty Robotics from the webinar Building a Product With Next-Gen Wireless Power
AirFuel Resonant Cost is Comparable to Inductive
The benefits of wireless power for enterprise settings are very compelling – but you may still have nagging concerns about the cost. Because AirFuel Resonant delivers a more robust experience than inductive, there's the misconception that AirFuel Resonant hardware is more costly.
But the truth is that there is no substantial difference in implementation costs for enterprise applications, between resonant wireless and inductive. For AirFuel Resonant, hardware costs are the same as inductive, and the installation and maintenance costs are actually lower.
Therefore, when you consider the total solution cost including the price of hardware, installation, and maintenance, AirFuel Resonant solutions offer significant savings.
"Inductive is hard if you want to go one to many, and if you want to go to higher power. AirFuel, I will contend, is pretty easy. So, this is what we want: we want high efficiency, we want small size, we want low cost and we want convenience. We don't want to have to carefully align the products to the charger and we don't want to wait a long time." – Alex Lidow, CEO of Efficient Power Conversion Corporation
AirFuel Resonant Elevates Enterprise Applications
AirFuel Resonant is the technology of choice for consumers because it provides true spatial freedom and the ability to charge a wide variety of devices simultaneously.
In this article, we've explored some of the benefits AirFuel Resonant wireless technology can provide for enterprise and infrastructure applications. With AirFuel Resonant, installing wireless charging platforms will be far easier and less expensive. The charging platforms will hold up longer and require less maintenance. And the implementation costs are comparable to inductive solutions.
We'd love to know how you are planning on using AirFuel Resonant in your enterprise applications.
Get Started With AirFuel Resonant
Want to learn more about AirFuel Alliance or get started with integrating AirFuel Resonant into your products?